THE GS SERIES
EXPECT EXHILARATION
WORTHY OF THE BOLD.
THE NEW GS SERIES IS AN ELEGANT PAIRING OF THRILLING PERFORMANCE AND A LUXURIOUS INTERIOR. NOW WITH A V8 OPTION, IT'S EVEN MORE AMAZING.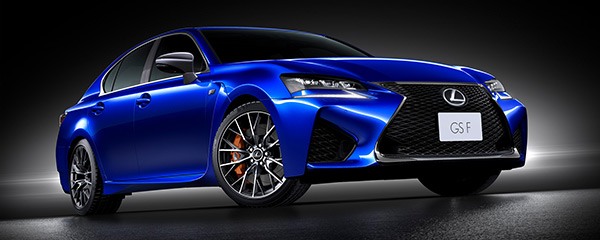 THE GS SERIES
FULL-BODIED LUXURY POWERED BY STYLE.
Experience an all-out performance with the GS F's 5.0-litre V8 powerplant.
Powered by Lexus Hybrid Drive, the GS 450h Limited delivers rapid acceleration and instant torque.
TESTING PURE PERFORMANCE

Find out how the GS F supersedan performs on the asphalt bends of Arizona's Sonoran Desert.
REVIEW

2018 GS F

"This V8 has character, an engine the way they used to be."

— autocar.co.nz

REVIEW

2016 LEXUS GS F

"[The GS F] does exactly what Lexus says it should. While the Europeans are starting to feel a bit generic, the GS F has a style all its own."

— Autoweek.com
CHOOSE YOUR GS
6.0

SECONDS
0 - 100 km/h

235

km/h
MAX SPEED

232

kW
MAX POWER

6.0

SECONDS
0 - 100 km/h

235

km/h
MAX SPEED

232

kW
MAX POWER

5.9

SECONDS
0 - 100 km/h

250

km/h
MAX SPEED

254

kW
Max Power Total System Output

5.9

SECONDS
0 - 100 km/h

250

km/h
MAX SPEED

254

kW
Max Power Total System Output

4.6

SECONDS
0 - 100 km/h

270

km/h
MAX SPEED

351

kW
MAX POWER