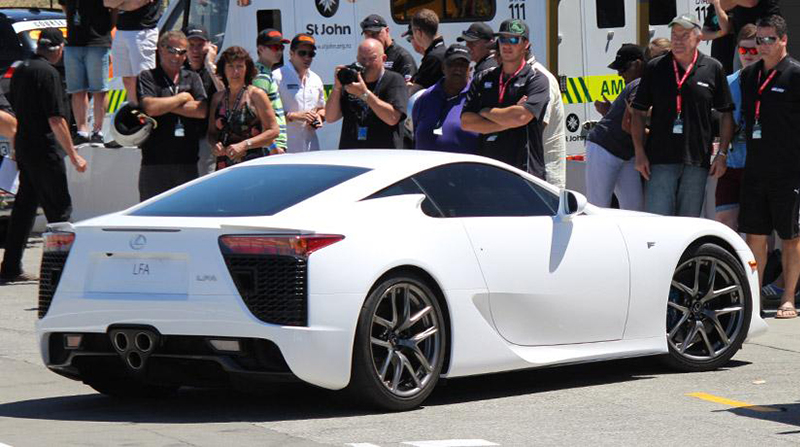 11 Mar 2015
Lexus LFA: A Supercar By Every Definition
"High speed symphony"
The Lexus LFA is a true supercar, and one that we were honoured to host in our showroom earlier this year for the Lexus Summer of Performance while it was on loan from Lexus Asia Pacific. And we really do mean 'honoured'. While it was in the country, the total number of LFA's in New Zealand was a grand total of two! The second LFA is privately owned by a friend of the dealership, right here in Christchurch.
As you would expect, the LFA drew a significant amount of attention while it was with us. Particularly during its performance at the Mike Pero Motorsport Park alongside the sensational new Lexus RC. A lucky few even had hotlaps in the LFA with New Zealand racing driver, Sam MacNeill; genuinely an experience of a lifetime. Reporter, Mathieu Day, took a few photos and video, which can be found in his article.
LFA PERFORMANCE FIGURES
As you might expext, the LFA boasts some impressive figures, helped by its carbon fibre construction. During the LFA's development, engineers found they had no way to construct the A-pillar and roofline using carbon fibre. Rather than using an alternative material, Lexus invented a loom that weaves carbon fibre strands in 3D. This is just one example of the amount of passion and dedication that went into the production of this vehicle.
The engineers also found that the LFA's engine revved so quickly (idle to 9,000 revs in 0.6 seconds) that analogue meters couldn't keep up, so electronic dials were used instead.
4.8 L V10
6-Speed ASG
412 kW at 8,700 rpm
Curb weight 1,480 to 1,580 kg
Top speed 202 mph (325 kph)
View more specs on Wikipedia, and extra images on the Lexus US website.


OUR PHOTOS AND VIDEO OF THE LEXUS LFA IN NEW ZEALAND
While the LFA was with us, we made sure we took plenty of photos. Both here and at Ruapuna.
View photos on the Lexus of Christchurch Facebook Page
View photos in our Google+ Photo Album
We've also put together a short video, with some footage that we took as well as some footage from Lexus New Zealand Execs.
The video includes the LFA start-up and engine revs (turn your speakers up!), as well as a closer look at the performance of the unique electronic dials.
Finally, for an experience that's close to that of the Lexus LFA, be sure to check out the Lexus RC range