THE ALL NEW LEXUS UX
FROM NZ $59,900 +ORC
The images and content have been sourced globally and may differ from final New Zealand specification.
COURAGEOUS, ELEGANT, AND INNOVATIVE, THE LEXUS UX LETS YOU DISCOVER A NEW DIMENSION IN BOLD DESIGN. CRAFTED TO THE DETAIL.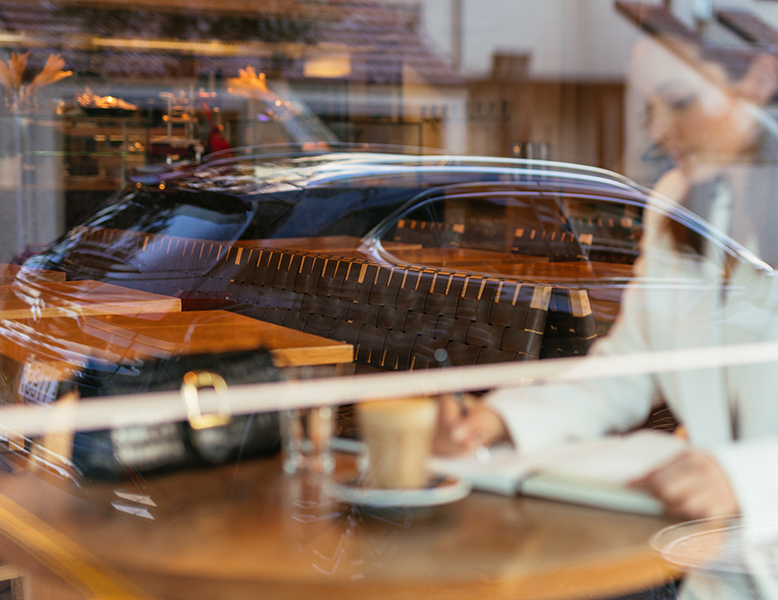 THE UX SERIES
A CAR DESIGNED FOR A LIFE DESIGNED
As one of the newest ambassadors of our brand - and founder of lifestyle brand and blog, An Organised Life - Beck Wadworth understands what it means to lead 'a life designed' more than most. It's crafting a vision of uncompromising style and purpose, embodied through every decision. As an entrepreneur and influencer, Beck exemplifies the urban lifestyle of ambition and style the UX was designed for. Says Beck, "The core values of An Organised life are focussed around function and style, with a meticulous attention to detail. Lexus understands and shares these same values, and you can see it embodied in the beautifully crafted and exceptionally engineered UX."
The UX's next generation remote touchpad brings a world of control to the driver's fingertips. Crafted with a sleek, easy-to-use aesthetic, you'll never have to look far to access features on the go such as maps, music, climate control or even calling.

Expressly crafted for the urban explorer, the Lexus UX offers a fresh take on the compact luxury SUV with city-smart technology like its elegantly designed wireless phone charger. Discreetly fitted under the centre console, it effortlessly helps keep your mobile device at peak charge throughout the day.
As innovative designers on a world stage, our ambassadors at Resident understand what it means to lead 'a life designed'. It's making deliberate and considered choices that reflect purpose and vision. Say Simon James, creative director and co-founder of Resident, "the Lexus aesthetic is a highly considered approach of thoughtful design. That's something that resonates with us. Our collective ethos places human needs and desires at the centre of everything we conceive, and the UX embodies this beautifully."
The rear light bar of the UX introduces a new design language to the range. Compromising 120 LEDs, it creates a single uninterrupted light form that stretches from one side of the vehicle to the other. Employing intelligent aerodynamic innovations, the Lexus UX's taillight and wheel arch also harness airflow to stabilise itself and provide enhanced driving dynamics.

In traditional Japanese architecture an Engawa seamlessly connects the inside with the outside, allowing for a more harmonious coexistence with your surroundings. The new Lexus UX dashboard seamlessly flows into the bonnet, with the widest field of vision in its class. Giving you a better view of the world ahead.
A LIFE DESIGNED BY BECK WADWORTH

Meet Lexus Ambassador Beck Wadworth, Founder of An Organised Life. See her collaboration to celebrate the launch of the first-ever Lexus UX.

A LIFE DESIGNED BY SIMON JAMES

Meet Lexus Ambassador Simon James, Director and Co-Founder of Resident. In a first of it's kind collaboration, he shares his vision of a luxury furniture accessory inspired by the UX.

THE UX SERIES
THE ALL NEW URBAN CROSSOVER.
The all new Lexus UX delivers innovative luxury and safety in a package that combines brave new design elements and efficient new petrol and self-charging hybrid electric powertrains.

The UX is the first Lexus model built on the new Global Architecture - Compact platform with a lightweight yet rigid body, low centre of gravity and refined suspension. This allows the UX to deliver superior handling agility and ride comfort, along with a distinctive driving character.
The Lexus UX Petrol Engine

The front-wheel-drive UX 200, with a new 126kW two litre Dynamic Force, four-cylinder engine is coupled with a new Direct Shift continuously variable transmission.

The Lexus UX Self Charging Hybrid Electric Engine

The UX 250h is a high-efficiency version of the two-litre petrol engine with a new fourth-generation self-charging Lexus Hybrid Drive system. It will be available with either front-wheel drive or E Four electric all-wheel drive. The combined system output of 135kW makes UX 250h a leader in hybrid performance as well as very fuel efficient.
By infusing a coupe-like elegance into the SUV's strong lines, the UX achieves a radical new look befitting the compact crossover of tomorrow.

The UX exudes brave design with a distinctive personality and infused dynamic attitude. The UX has a signature take on the Lexus spindle grille design. A new mesh pattern with individual elements creates an intriguing three-dimensional appearance that appears to change with the viewing angle. Arrowhead-like daytime running lights above the headlights give the UX a confident persona. Body character lines flow out from the dramatically flared front and rear wheel arches and 18-inch alloy wheels are placed at the UX's corners creating an agile look.
Lexus designed the UX cabin to evoke the feel of a dynamic, luxury sedan, but with the higher seating position and versatility desired in a crossover. The materials and workmanship are pure Lexus that matched together create a unique sense of contemporary luxury. Experience the elegance of traditional Japanese craft-inspired design in details such as the UX's smooth leather upholstery, made using sashiko, a traditional Japanese quilting technique that is also applied in the making of judo and kendo martial arts uniforms.

State-of-the-art technology combined with unparalleled craftsmanship has been carefully considered to evoke a sense of luxury throughout the cabin. A 7-in. TFT LCD display meter digitally creates realistic, analogue gauges in a three-dimensional space. Furthermore, an available head-up display underscores the Lexus UX's high-tech feel while putting vital vehicle information in the driver's line of sight. High-strength structure and optimal placement of specifically curated sound-absorbing and insulating materials throughout the body of the UX creates a unique and quiet driving experience. The Lexus UX offers a wide choice of interior colour combinations, each of which conveys a specific mood and accentuates the premium design.
REVIEW

2019 UX FIRST DRIVE

"The UX won't blush when compared to other upmarket crossovers like the Volvo XC40 and the BMW 1 Series."

— digitaltrends.com
THE IMAGES AND CONTENT HAVE BEEN SOURCED GLOBALLY AND MAY DIFFER FROM FINAL NEW ZEALAND SPECIFICATION.
Every endeavour has been made to ensure text details and specifications are accurate. Lexus New Zealand reserves the right at any time to introduce any changes deemed necessary to improve the models shown or for any other reason. Paint, upholstery and interior trim colours shown may differ from final New Zealand specifications. Some models shown on the website may have optional accessories fitted. For further information contact your nearest Authorised Lexus Dealer.