THE RX SERIES
A SHARPER LEVEL OF
STYLE & COMFORT.
COMPLETELY REDESIGNED, THE RX EXUDES UNTAMED ELEGANCE. BLAZE NEW TRAILS WITH THE CONFIDENCE-INSPIRING LOOKS OF THE RX SERIES.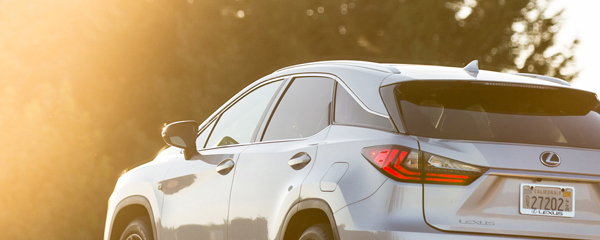 THE RX SERIES
SOPHISTICATION HAS A NEW ATTITUDE.
The Lexus Self-Charging Hybrid Electrics push the boundaries of performance and efficiency. 

Powered by an advanced 3.5-litre V6 engine, the RX 350 delivers an unforgettable driving experience.

The RX 450h, with Lexus Hybrid Drive, gives you more fuel-savings and a greener drive.
DARING YET REFINED

The new RX series proves that elegance can have an edge, and that daring can be refined.

CONVENIENCES AND CONTROLS

Versatile in-vehicle functions allow the all-new RX to seamlessly adapt to your drive style.
REVIEW

2016 RX 350

"The fourth generation is not just a daring departure for the RX, but a strong hint that moving forward, not even the comfort and utility-oriented models from this vaunted luxury brand will be staid." 

— Thecarconnection.com
CHOOSE YOUR RX
9.6

l/100km
FUEL CONSUMPTION (COMBINED)

200

km/h
MAX SPEED

221

kW
MAX POWER

9.6

l/100km
FUEL CONSUMPTION (COMBINED)

200

km/h
MAX SPEED

221

BRAKE HORSEPOWER

9.6

l/100km
FUEL CONSUMPTION (COMBINED)

200

km/h
MAX SPEED

221

kW
MAX POWER

5.7

l/100km
FUEL CONSUMPTION (COMBINED)

200

km/h
MAX SPEED

230

kW
MAX POWER TOTAL SYSTEM OUTPUT

5.7

l/100km
FUEL CONSUMPTION (COMBINED)

200

km/h
MAX SPEED

230

kW
MAX POWER TOTAL SYSTEM

5.7

l/100km
FUEL CONSUMPTION (COMBINED)

200

km/h
MAX SPEED

230

kW
MAX POWER TOTAL SYSTEM

10.2

l/100km
FUEL CONSUMPTION (COMBINED)

200

km/h
MAX SPEED

216

kW
MAX POWER TOTAL SYSTEM

6.0

l/100km
FUEL CONSUMPTION (COMBINED)

200

km/h
MAX SPEED

193

kW
MAX POWER TOTAL SYSTEM