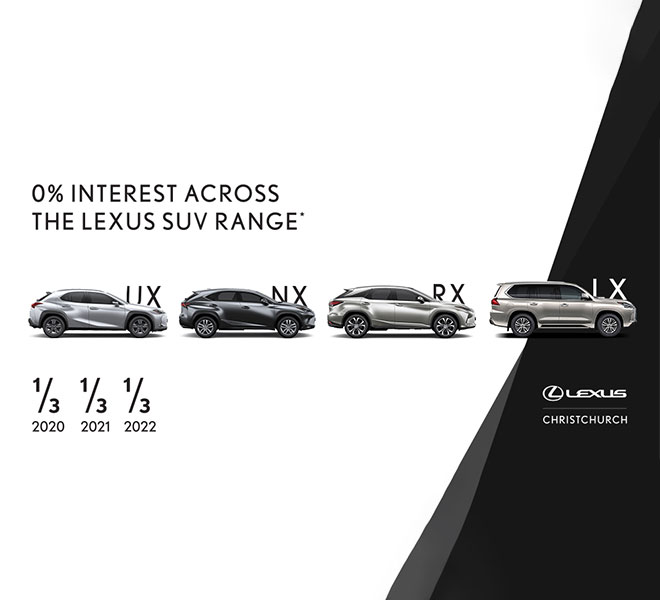 0% Interest across the entire new Lexus SUV Range*
Purchase any new Lexus SUV before December 31st 2020 and receive 1/3, 1/3, 1/3 finance at 0% interest. Pay a third deposit, a third in 12 months, and a third in 24 months at zero percent interest.
All new Lexus vehicles come with 4 Years' Unlimited Kilometre Warranty and 4 Years' Free Servicing*

*Lexus of Christchurch SUV Range Finance Terms and Conditions
These terms and conditions are subject to Lexus New Zealand's General Terms and Conditions unless otherwise specified below.
Every new Lexus SUV purchased from Lexus of Christchurch between 6 November 2020 and 31 December 2020 will receive 0% interest finance ('Finance Offer').
The Finance Offer is subject to stock availability.
Accessories are not included in this offer.
The Finance offer is only available on a Classic Finance Loan through Lexus Financial Services with a 1/3, 1/3, 1/3 payment structure:
a. initial 1/3 of vehicle transaction cost payable at time of purchase; and
b. 1/3 of vehicle transaction cost due in 2021, on anniversary of purchase; and
c. 1/3 of vehicle transaction cost due 2022, on anniversary of purchase
An additional $450 documentation and $9.20 PPSR fee applies.
Cannot be used in conjunction with any other offer or discount.
Images are illustrative only and stock may vary in colour. Overseas models may be shown.
From prices are entry-level model prices.
Prices are inclusive of GST.
Lexus of Christchurch reserve the right to withdraw this offer.
Year Warranty and Servicing information is available on Lexus New Zealand's Warranty and Servicing page.